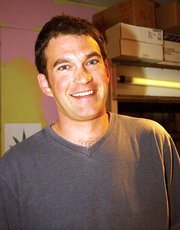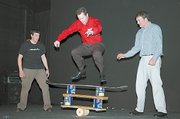 Past Event
Friday, May 25, 2007, 7 p.m.
Steamboat Springs Mountain Theater Company, Ski Time Square, Unit G105, Steamboat Springs
All ages / $5 - $10
Steamboat Springs — We're Not Clowns will perform a juggling act of its own as the group works to find a replacement for Scott Parker.
This weekend's performances at the Steamboat Springs Mountain Theater will be the final opportunity to watch the juggling comedic group with Parker. Parker formed the group with Kelly Anzalone in 1997.
"It's just a bummer that he's leaving because he's definitely not replaceable," Anzalone said.
Throughout the years, the group has entertained thousands of adults and children at school assemblies across the world. In 2000, We're Not Clowns took the silver medal at the International Jugglers Association competition in Montreal.
The group formed after Anzalone convinced Parker to move to Steamboat.
"We came up with the name when people would see us juggling at a park or somewhere else and they would ask us if we were clowns. We would say no - 'We're Not Clowns' had a nice ring to it," Parker said.
Parker, who is completing his first year as an eighth-grade history teacher at Steamboat Springs Middle School, is about to have his second child and is moving with his wife to his native New York to be closer to family.
"I think that it is important for my kids to grow up playing with their cousins," Parker said. "I am going to miss Steamboat dearly. I have been living here for almost 12 years, and I have lots of friends that I will miss dearly."
For the final performances, Parker, Anzalone and Andy Pratt will gather every piece of juggling equipment they own.
"The show will be us juggling everything we have at least once, and we will reminisce from our old shows," Anzalone said. "We're actually having a rehearsal on Thursday, which is crazy."
Parker may be irreplaceable, but Anzalone said they already have a replacement in mind.
He said he is trying to recruit local actress and performer Gina Wither.
"She's got a very vibrant, great personality on stage," Anzalone said.