Steamboat Springs — Even with hundreds of riders competing for national titles at last week's USASA National Championship at Copper Mountain, Steamboat Springs Winter Sports Club snowbaorders threw down some wildly impressive runs and walked away with a number of podiums and top-10 finishes.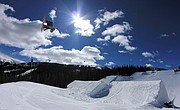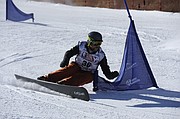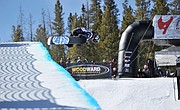 2015 USASA National Championships
Sunday, March 29
Women's boardercross open class
1 Rosie Mancari
10 Kelsey McGorisk
Men's boarder cross open class
9 Mick Dierdorff
14 Nick Osadchuk
30 Billy Winters
Breaker Girls slalom
16 Grace Drobek
Menehune Girls slalom
12 Rebecca Dillon
14 Sophie Scheel
Breaker Boys giant slalom
7 Winston Vaughan
9 Cooper Scheel
23 Jacy Werner
25 Johnny Duty
Menehune Boys giant slalom
15 Marty Boyd
Grommet Boys halfpipe
35 Braden Duty
Monday, March 30
Men's open class giant slalom
1 A.J. Muss
3 Converse Fields
4 Michael Trapp
5 Ezio Argento
6 Robbie Burns
7 Ryan Rosencranz
8 Billy Winters
10 Everett McEwan
12 Gaelen Schiedel-Webb
13 Conrad Sacher
18 Riley Kilmer-Choi
20 Marc Chasse
22 Garrett Denny
24 Tom Boldt
Women's open class giant slalom
2 Maggie Carrigan
8 Hillary Bond
10 Katie Keough
12 Nina Argento
Breaker Boys slalom
10 Winston Vaughan
15 Cooper Scheel
19 Johnny Duty
27 Jacy Werner
Menehune Boys slalom
23 Marty Boyd
32 Jake Larsen
Junior women halfpipe
2 Savanna Atkins
Menehune Girls halfpipe
11 Rebecca Dillon
Youth men boardercross
1 Cody Winters
58 Ben Larsen
Tuesday, March 31
Women's open class slalom
1 Maggie Carrigan
6 Katie Keough
8 Nina Argento
11 Hillary Bond
Men's open class slalom
1 A.J. Muss
2 Michael Trapp
4 Ryan Rosencranz
5 Everett McEwan
7 Converse Fields
9 Marc Chasse
10 Riley Kilmer-Choi
12 Garrett Denney
16 Robbie Burns
18 Conrad Sacher
19 Tom Boldt
24 Billy Winters
Grommet Boys giant slalom
6 Walker Overstake
30 Braden Duty
Breaker Girls slopestyle
8 Grace Drobek
Menehune Boys boardercross
20 Marty Boyd
Breaker Boys boardercross
16 Winston Vaughan
Youth men's halfpipe
43 Cody Winters
Wednesday, April 1
Men's open class halfpipe
5 Spencer Vaughan
Breaker Girls boardercross
14 Grace Drobek
Menehune Girls boardercross
17 Rebecca Dillon
22 Sophie Scheel
Grommet Boys slalom
12 Walker Overstake
34 Braden Duty
Menehune Boys slopestyle
6 Marty Boyd
Junior men's giant slalom
1 Myles Silverman
Youth men's giant slalom
1 Cody Winters
25 Ben Larsen
Breaker Girls giant slalom
7 Grace Drobek
Menehune Girls giant slalom
14 Rebecca Dillon
17 Sophie Scheel
Youth men's slalom
2 Cody Winters
27 Ben Larsen
Breaker Boys halfpipe
38 Jacy Werner
43 Johnny Duty
Menehune Boys halfpipe
37 Marty Boyd
48 Jake Larsen
Rosie Mancari, riding with a broken arm in a cast, kicked off Nationals with a bang last Sunday, stealing the women's open class boardercross title. Because USASA and USSA combined together for the event, Nationals was also considered a NorAm event and FIS points were up for grabs for athletes like Mancari. Mancari's teammate, Kelsey McGorisk, took 10th in the same event.
On the men's side, Steamboat's Mick Dierdorff came into Nationals with the fastest boardercross qualifying time and finished ninth overall. Nick Osadchuk finished 14th in the finals, his best result of the winter, and young Billy Winters took 30th.
"Billy Winters is young, and he's jumped right into open class competing against Olympians," Winter Sports Club snowboard director Tori Koski said. "He had a great qualifying run, and with him being such a young athlete, competing there is cool to watch."
Also on Sunday, Winston Vaughan and Cooper Scheel had top-10 finishes in the giant slalom Breaker Boys division, with Vaughan in seventh and Scheel in ninth. Marty Boyd placed 15th in the jam-packed Menehune boys GS.
Last Monday, A.J. Muss capped his successful season by snagging gold in the men's open class giant slalom. In his 14 starts this winter, Muss landed on 10 podiums and placed top 10 in the other four. Muss's teammates Converse Fields (third), Michael Trapp (fourth), Ezio Argento (fifth), Robbie Burns (sixth), Ryan Rosencranz (seventh), Billy Winters (eighth) and Everett McEwan (10th) nearly swept the finals top 10.
Maggie Carrigan was the silver medalist in the women's open class GS, followed by Hillary Bond in eighth and Katie Keough in 10th.
In the younger classes last Monday, Cody Winters defended his boardercross national title by stealing the youth men's championship.
"Cody Winters, he's always on the podium," Koski said. "He's new to the youth division. He's a pretty young rider in that age group. For him to win is pretty cool."
Winston Vaughan took 10th in the breaker boys slalom Monday, while Savanna Atkins brought home a silver medal in the junior women's halfpipe after a solid second run.
On Tuesday, Carrigan followed up her GS podium by winning her second straight women's open class slalom title. Keough was sixth and Nina Argento was eighth to round out the Steamboat top 10.
That same day, Muss again topped the podium, this time with an open class slalom gold. It was another huge day for Steamboaters as Trapp took second, Rosencranz was fourth, McEwan was fifth, Fields seventh, Marc Chasse ninth and Riley Kilmer-Choi 10th.
Tuesday's younger classes also saw some solid results from locally trained athletes, as Walker Overstake placed sixth in Grommet Boys GS during his first Nationals. Grace Drobek was also eighth in Breaker Girls slopestyle.
On April 1, Spencer Vaughan, broken arm and all, landed a 900 spin and a cab double under flip to place fifth in the men's open class halfpipe.
"Spencer placing fifth was a great placing," Koski said. "He's in there with U.S. Team rookie members and all kinds of hard competition."
Boyd also had a big day in the stacked Menehune Boys slopestyle class, placing sixth overall.
"In the Menehune Boys slopestyle, they are doing inverted tricks, 720s, back-to-back 720s, and Marty Boyd stomped his run," Koski said.
In the junior men's class, Myles Silverman topped the GS podium, and Cody Winters stood atop the youth men's GS podium. Cody Winters grabbed silver in the youth men's slalom, while Drobek also took seventh in the breaker girls GS.
In all, 43 Steamboat Springs Winter Sports Club riders got a taste of nationals competition, competing with and against the likes of Olympians Alex Deibold and Ross Powers. Justin Reiter even competed in Friday's banked slalom exhibition.
"It was incredible how many top-10 finishes and podiums we had," Koski said. "All across the board athletes did outstanding. Our Rocky Mountain Series athletes on Thursday alone had 86 medals."
To reach Ben Ingersoll, call 970-871-4204, email bingersoll@SteamboatToday.com or follow him on Twitter @BenMIngersoll