Steamboat Springs — When the Steamboat Springs High School boys lacrosse team bears down, it can be quite effective.
That's one thing Eagle Valley coach Boomer Devlin took away from his team's trip to Steamboat on Thursday.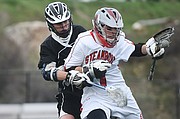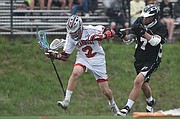 The Sailors got an early two-goal lead and managed to, roughly speaking, maintain it throughout the game, eventually winning 11-8.
When the Demons did tighten things up, pulling within one goal early in the fourth quarter, Steamboat buckled down, took care of business and closed the game out.
"Steamboat is a good team, and they're experienced, and when they were in a situation where it was a one-goal game in the fourth, that's when their dominance came through," Devlin said. "They knew which guys to go to and how to get a goal when they needed it."
The Sailors scored the final three goals of the game to put Eagle Valley away. Now, heading Saturday to play at Cheyenne Mountain, Steamboat will try to bring that same late-game intensity for a full 48 minutes.
Especially in non-conference games, such as Saturday's, that's been a struggle at times this season for Steamboat. The Sailors are 6-4, three of their losses coming out of the league.
"We've been coming into those games with a different mindset," senior Colin Musselman said. "Our biggest challenge this season is coming into games with the mindset that we can win, and we should win. Hopefully we can get to that level at some point, hopefully in the near future."
All four losses have been tight — all by only one goal — and all have seen the Sailors' defense show well. Saturday should put that to the test. Steamboat got some huge defensive stops Thursday against Eagle Valley, a big part of that fourth-quarter shutdown. A big hit from junior David LaPointe ended one Demons charge in the fourth, then reliable play from the defense fueled the rest.
"Our defense has held every game under 10 goals, and they did again tonight," Steamboat coach Jay Lattimore said. "Our offense should be scoring over 10. That's kind of the formula we have right now, and it worked again today."
The Sailors have given up an average of 5.2 goals per game through its first 10 games. Cheyenne Mountain, meanwhile, has been one of the most prolific scoring teams in the state, racking up 101 goals in its first nine games.
Lattimore's formula — 10-plus goals for the Sailors, 10-minus for the opponents — will be tested in a major way.
Thursday, Davis Petersen led the Sailors with three goals. Max Lynch had two, while Musselman, Jacob Gilbertson, Tallak Myhre, Kieran Hahn, LaPointe and Peyton Belton each scored one.
Senior Peter Wharton played in goal for the Sailors in the second half, though, because he'll miss Saturday's game, junior Zach Miller played the first half and, along with Belton and LaPointe, earned some specific praise from Lattimore.
"We moved the ball well today," Musselman said. "Our clears were especially good, and we were finding those open men. We had good shots, a lot of low, over-the-top shots, and that really helped us capitalize."
To reach Joel Reichenberger, call 970-871-4253, email jreichenberger@SteamboatToday.com or follow him on Twitter @JReich9