Steamboat Springs — When clinical staff at Northwest Colorado Health meet a patient with high blood pressure or diabetes, they consider how the patient's personal goals might drive them to improve their health.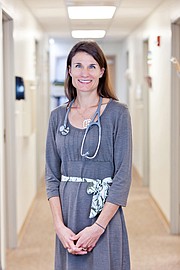 More on the 6|18 Initiative
The Centers for Disease Control and Prevention is partnering with health care purchasers, payers, and providers in an effort to improve population health and control health care costs. The initiative targets six common and costly health conditions (only five apply to community health centers like Northwest Colorado Health) and, initially, 18 proven specific interventions to improve health and control costs. Learn more at cdc.gov/sixeighteen.
A patient might want to be able to play baseball with his or her grandson, or be healthy enough to go fishing again, goals that, to some patients, seem to have little relationship with their blood pressure numbers, weight or other health data.
"Their primary goal might be to go fishing, which has nothing to do with their diabetes, per se, but it does in the grand scheme of things," said Diana Hornung, chief medical officer at Northwest Colorado Health.
The organization's commitment to creating patient care programs and using a team approach to improving a patient's health has led to Northwest Colorado Health being recognized as a top performer by the 6|18 Initiative of the Centers for Disease Control and Prevention.
Northwest Colorado Health is one of 29 among 277 community health centers in the country being recognized through the initiative, which honored Northwest Colorado Health as a top performer in reducing high blood pressure, diabetes, asthma, tobacco use and unintended pregnancies for patients in their clinics in Steamboat Springs and Craig.
The organization reports data on the progress of patients, and was found to be a top performer in each of the five categories based on effectiveness of preventions, interventions and outcomes of patients, according to Stephanie Einfeld, director of performance improvement for Northwest Colorado Health.
For the category of unintended pregnancies, the organization is a top performer, due, in part, to their comprehensive family planning services available to all women, regardless of ability to pay.
Those services include access to contraceptive services, education, counseling, supplies, medical services, HIV and sexually transmitted infection prevention and preventative cancer screenings.
"Our success is rooted in a culture of high quality care and continuous improvement," Einfeld said. "All clinical staff is included in the process, and our teams believe in this meaningful work. Being identified as a top performer really credits the hard work our staff put in and believe in every day in caring for our patients."
Hornung said the national recognition reinforces the hard work of staff members.
"We've been working super hard," Hornung said. "This is a big deal for us."
To reach Teresa Ristow, call 970-871-4206, email tristow@SteamboatToday.com or follow her on Twitter @TeresaRistow