Denver — Soroco sophomore Jace Logan and Norwood senior Hayden Harris have plenty in common, from a ranching background to nearly unrivaled skill on the wrestling mat.
Photo Gallery
2017 State wrestling, Day 2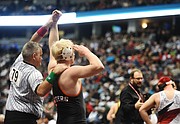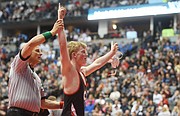 State wrestling results
Class 3A
Quarterfinal
145: Lance Bryant, Steamboat, def. Ryan Nava, Bayfield, Fall 1:05
160: Hayden Johnson, Steamboat, def. Braeson Lewis, Eaton, Dec 8-6
Semifinals
145: Aaron Trujillo, Valley, def. Bryant, Fall, 0:58
160: Johnson def. Dax Bender, La Junta, Fall 5:19
First-round consolation
113: Colton Pasternak, Steamboat, def. Stevie Fuentes, Montezuma-Cortez, Dec. 4-2
126: Dakota Thvedt, Steamboat, def. Isaiah Baber, Lamar, Fall 2:47
152: Dalton Lucero, Pagosa Springs, def. Matthew Hansen, Steamboat Fall 4:30
Second-round consolation
113: Ryan Moltz, Salida, def. Pasternak, Fall 3:17
126: Homero Navarro, Sheridan, def. Thvedt, MD 16-8
Class 2A
Quarterfinals
145: Britton Holmes, Peyton, def. Lane Martindale, Soroco, Dec. 7-0
152: Jace Logan, Soroco, def. Chantz Lange, Fowler, Fall, 1:28
195: Sky Carlson, Soroco, def. Tristan Laver, Crowley County, Fall, 1:45
195: Christian Carson, Hayden, def. Ricky Preciado, Rocky Ford, Fall, 5:51
Semifinals
152: Logan def. Jered Hulteen, Cedaredge, MD 15-3
195: Jason Murphy, John Mall, def. Carlson, Dec. 8-3
195: Carson def. Ken Cox, McClave OT
Second-round consolation
145: Martindale def. Emmanuel Huerta, Wray, Fall, 2:43
Both standouts at the Class 2A 152-pound class, they've wrestled one another three times this winter, and if three could be divided by two, they'd be sitting even.
They'll meet one final time Saturday in what is, on paper, one of the best matchups of the entire Colorado state wrestling tournament.
Logan was one of three Routt County wrestlers to win Friday in the semifinals at the Pepsi Center in Denver, earning the chance to wrestle Saturday for a state championship.
Steamboat Springs junior Hayden Johnson won his Class 3A 160-pound semifinal match with a gritty third-round pin and will wrestle Holy Family senior Kolsen Welham for the title.
Hayden senior Christian Carson went to overtime and came up with one huge move to win his Class 2A 195-pound semifinal. He'll wrestle McClave's Ken Cox for the championship.
Then, at 152, Logan ran it up on Cedaredge's Jered Hulteen, winning 15-3. A 12-1 decision from Harris on the other side of the bracket set up a clash of two of the state's top wrestlers.
"They're just battles," coach Jay Whaley said. "When Jace and that kid meet up, it's a battle, and it'll be fun to watch."
Logan advanced to the semis with pins in both the first round and the quarterfinals. If a 15-3 win can possibly count as a bump in the road, it was his only one of the weekend. He was, in Whaley's words, sloppy early, but dominant late.
His only real bump of the season, however, was Harris.
The two have a bit of chess going on with their wrestling. Logan won the first meeting between the pair by wrestling strong on his feet.
Harris took the second.
"I got too into his upper-body style," Harris said. "I changed back to where I'm most comfortable, keeping a low level and not tying up."
When the pair met at regionals, it could have gone either way, but Logan pulled it out in overtime.
"They know each other as well as any two guys in this entire arena," said Tim Yount, who runs the On the Mat wrestling ranking system in the state of Colorado. "They're one of about four or five pairs who've wrestled four times in a season."
Yount, in his pre-state predications, tagged Harris for the win in the finals, thanks to his vast experience wrestling in the Pepsi Center.
Both are hoping to add a state championship to their shelf. Harris has been close three times, placing fourth as a freshman, third as a sophomore and second as a junior. Logan made the state finals last year as a freshman but lost there to finish second.
"I look at that experience," Yount said. "Harris has been here four times, but he's never won it. Sometimes, there's a little added incentive for a kid in that position. In that fourth match, usually, the guy who's a little older, a little more experienced in mat time at state, wins out."
No one, including Harris and Logan, is sure of that outcome, however.
"It will come down to the third period. Whoever wins that period will win the match," Harris said. "It's coming down to our takedowns, because we can both escape off the bottom. Whoever gets those takedowns in the third period will win the match."
Johnson gets big pin
Johnson's win came after another grueling match, something that became a pattern for him at this year's state tournament.
He won his first match, 4-3, then won Friday morning in the quarterfinals, 8-6. He didn't let his semifinal get quite that interesting, though he did trail early. He bounced back from that, then saw an opening midway through the third period and pounced.
Johnson's wrestling is defined by patience and a calm, cool demeanor that, even when challenged, kept him from giving up excessive points.
"He stays right where he needs to be, and he's calm all the time," coach Travis Bryant said.
He finally showed a crack in that calmness when he finished his pin in the semis, however. He put La Junta's Dax Bender to his back, got the pin, then leaped to his feet and flexed for the crowd.
"I grabbed a leg, trapped his arms down, lifted and put him straight to his back," Johnson said.
Carson digs deep
Carson had to scrape the bottom of the barrel for what was the biggest win of his career. He was led several times early, but Cox tied the match 4-4 in the third period. Both wrestlers heaved from exhaustion as time expired and the began overtime.
Neither could get an advantage early in that period, either, despite several wild attempts. Both just missed on points as they rolled on top of each other midway through overtime.
Carson finally found a window, however. He overpowered Cox on his feet and pushed him to the mat, setting off celebrations among the Hayden fans watching from the stands.
"I couldn't have done that while he was at full energy, but in the fourth period, I thought, 'Why not?' What do I have to lose?'" Carson said. "It feels awesome. It feels like what I've been working for for four years now. It feels good for these coaches, too. They've put in just as much time, maybe more, than I have."
Elsewhere in the semifinals, 145-pound Steamboat junior Lance Bryant was pinned in the first period, while 195-pound Soroco junior Sky Carlson lost a decision 8-3. Both have already earned a medal and will wrestle Saturday to determine their place between third and sixth.
Steamboat's Colton Pasternak and Dakota Thvedt both won one consolation match, but lost their second. Soroco's Lane Martindale lost early in the quarterfinals, then won a second-round consolation match and will be in action Saturday.
To reach Joel Reichenberger, call 970-871-4253, email jreichenberger@SteamboatToday.com or follow him on Twitter @JReich9