Steamboat Springs — Similar to many Steamboat Springs residents, a group of 18 from the Steamboat Christian Center headed for a destination closer to the equator during Blues Break.
But the group of mostly adults and a few teens wasn't on just any vacation — it was traveling as part of a mission trip to visit another Christian church in a Cuban city not much larger than Steamboat.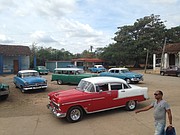 "We primarily worked with a little church in the middle of the island," said Troy Lewis, a lead pastor with Steamboat Christian Center who went on the trip. "It was a novelty for them to have Americans there, as there haven't been a lot."
Lewis said the Christians in Bolondron, about 90 minutes southeast of Havana, were pressured to be more discreet about how they practiced their religion, as it isn't generally encouraged in the country, where people are predominately Catholic or secular.
Church buildings are marked with small serial numbers to designate them as meeting places.
Lewis said the church his group visited, however, had a large congregation of 150 to 200, including many young adults in their 20s and early 30s.
He said the congregation had raised $2,000 to purchase land for a camp retreat in the jungle, where rules governing religious gatherings aren't strict.
Because the average salary is only about $60 per month in the country, the fundraising had taken five years.
Lewis and others from Steamboat Christian Center were able to raise an additional $1,200 among themselves to cover the cost of installing a well on the property.
"They're very poor, but they're very humble and happy," Lewis said about Cubans.
During the weeklong visit, Steamboat residents taught the people from Bolondron American football and brought along skateboards from Sk8 Church.
"We took a few activities that we thought they might be interested in," said Marco Cuevas, a Steamboat Springs Middle School teacher who also went on the trip.
Cuevas said everyone, from young children to adults, was interested in giving the skateboards a try.
"They knew about skateboards, because they have them in bigger cities," he said. "They're still practicing every day."
Cuevas said he was impressed with the sense of community among the people he met.
"They really rely on each other and work together," Cuevas said.
The trip was the first visit to Cuba for Steamboat Christian Center, which typically takes three or four mission trips each year, including places such as Malawi, Africa, an extremely poor country where the church has helped build transitional housing for women trying to build a new start after a life of prostitution.
Lewis said the church plans to continue taking mission trips, and he already has interest from a few dozen people for the next visit to Cuba.
To reach Teresa Ristow, call 970-871-4206, email tristow@SteamboatToday.com or follow her on Twitter @TeresaRistow